About Our Southern California Dental Laboratory
Sowle Ceramics is a small, quality derived crown and bridge laboratory, located in the small harbor town of Dana Point, California. We opened our dental laboratory in 1998, with the intention of implementing the highest level of dental technology. We wanted to use dental technology for artistry, creating lifelike restorations, while working closely with our client doctors and their staff. Over the last nine years, our vision has come to fruition as we have built a reputation for consistently offering fantastic results.
Gary Sowle, Owner
Gary Sowle was born and raised in a Southern California beach town, where he spent most of his youth as a grommet (surf kid). He decided to take advantage of his artistic ability and enrolled in Huntington College of Dental Technology, where he graduated at the top of his class in 1985. Gary became a CDT in 1996. Over the last 22 years, he has refined his skills and knowledge through continuing education, lectures, and hands-on courses. Gary truly enjoys the artistic part of his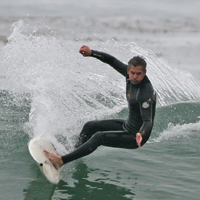 profession, and he takes pride in every level of business ownership. His attention to detail and leadership skills are the key elements that helped build the great reputation that Sowle Ceramics has today.
When not making teeth, Gary spends most of his free time enjoying local surf spots, like Trestles and Salt Creek. Cars are his second passion, but the most important thing in his life is his family. (P.S.  When the surf is up, additional time on cases may be required. Just kidding,)
Ken Yuhasz, Ceramist
Ken was born and raised in Michigan before moving to Southern California in 1978. He graduated from the Orange Coast College Dental Technology program in 1982. He has 25+ years experience in all phases of the dental laboratory and is a CDT with a ceramics specialty.
Ken enjoys living near the Southern California coast - particularly the times when he gets to relax at the beach.
Marcos de la Cruz, Lab Technician - Waxing and Fame Design
Marcos de la Cruz grew up overseas as an Air Force brat in Okinawa, Japan and England. After attending Texas Dental Technology School in Houston, he worked briefly in Texas before moving to Orange County in 1982. There he worked at a number of high-end dental labs as a waxer/metal finisher before landing at Sowle Ceramics in 2000.
In his free time, Marcos enjoys playing drums and has been in several Orange County rock bands, including The Tickets and The Tijuana Dogs. Marcos is a devoted Lakers fan and also follows the England National Soccer Team, as well as the English Premier League.
Steve Culp, Lab Technician/Director of laboratory operations
Steve has lived in the Dana Point/Laguna Niguel area for his entire life. He started working in a dental office at age 15, where he experienced dentistry chair side. After six years of experience in the dental office, he came to Sowle Ceramics in 2003. Since moving to Sowle Ceramics, Steve has rapidly progressed to manage multiple tasks and responsibilities, and he looks forward to the new challenges he faces each day. Steve enjoys his job immensely and couldn't ask for better coworkers. Steve enjoys hot days on the beach and cold days in Mammoth with his new wife, Jessicah.
Laura Golles, Delivery Specialist
Laura is our delivery specialist. She processes each case and delivers to local dentists. Laura enjoys her coworkers, our dentists, and their friendly staff. A longtime resident of Southern California, Laura was born in San Jose, Costa Rica – and she speaks fluent Spanish. After hours, Laura spends time with her husband two children, whom are in college. She likes to relax with a good book by the fireplace, travel, and shop.